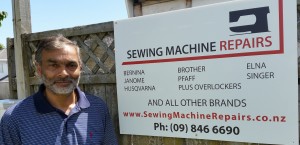 Empisal Sewing Machine Repairs – Tips
Empisal sewing machines and over-lockers as with other brands, all work well will selecting the correct needle type and size for the fabric being used.
Check that the bobbin is inserted correctly and the thread path is followed according to the user manual for both bobbin and top threads.
A clean bobbin area will stop threads being snagged or causing tension issues.
Used good quality threads that are compatible for the needle and bobbin
Used correct presser foot for the stitch selected
Use the correct spool cap for the actual thread spool size being used, as incorrect sizing may cause snagging and tension issues.
If any of the troubleshooting tips do not help to sort out any problems, it is always better to take the machine in for professional inspection and repair, especially if it is in regards to timing or tensions.
Continuing to use your machine may lead to more wear and tear, possibly making the machine totally inoperable.
All sewing machines need to be serviced regularly and we recommend yearly if using often or every two years with infrequent use.